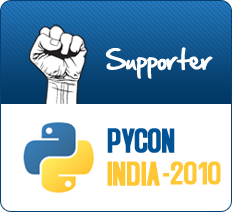 PyCon India 2010 is the primary Python conference in India. A purely volunteer effort, it is being hosted for the second time in India, and will attract some of the best Python developers in India and abroad.
The conference will take place on 25th and 26th, September 2010.
The conference will consist of a number of full length presentations, a number of shorter lightning talks and open sprints and BoFs.
Links
Indian Python Software Society
Off recently, the trends in Python language usage is growing in India. To give a more professional touch to this community effort, the Indian Python Software Society (IPSS) has been formed. The mailing list of IPSS is at
http://mail.python.org/mailman/listinfo/ipss
. Other significant details can be found out at
http://wiki.python.org/moin/IPSS
.
The growing trends of Python will definitely make changes in the way Indian Computer Generation looks at programming languages.
Love Python :-)